I am officially declaring today a National holiday. Today shall be Reba Day. Reba is celebrating her 63rd birthday and I am celebrating all day long.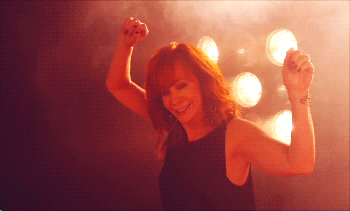 Without a question, Reba is my all-time favorite country music artist. From cassettes, CDs, to now streaming, I have been listening to Reba's music since childhood. I will still watch the show Reba anytime it is on, no matter how many times I have seen it. I was ecstatic when I learned she would be hosting the ACMs this year. Perhaps I do have a bit of a girl crush on Reba, but I own it. C'mon, it is Reba Freaking McEntire!
To celebrate, I am listing my top ten songs from Reba with the number one song being my absolute favorite song.
10. "Turn On the Radio"
9. "Consider Me Gone"
8. "I'm a Survivor"
7. "The Heart Won't Lie"
6. "Take it Back"
5. "Little Rock"
4. "The Night the Lights Went Out in Georgia"
3. "Does He Love You" featuring Linda Davis
2. "Is There Life Out There"
1. "Fancy"